January 2024 USPS Rate Increase Announced
Today, October 6th, the Postal Service filed with the Postal Regulatory Commission (PRC) R2024-1 to announce a postage increase for Market Dominant products to be implemented on January 21st, 2024. https://prc.arkcase.com/portal/docket-search/daily-listings/filing-details/126548
The Postal Service has available 1.959% percentage points of pricing authority plus any residual banked for all classes of mail. The Density, Retirement, and Non-Compensatory 2% surcharge on a Non-Compensatory Class (Periodicals) may only be used once annually, so will not be used until an expected July 2024 rate change.
Below lists the total amount available at each mail class level:

Non-Compensatory is defined as when revenue is not covering the cost attributed to the handling and delivery of a product or class.
The USPS is mandated to increase the rate of non-compensatory products within a compensatory class 2% over the class average with every rate change, while still keeping the total class increase within the price cap. The Non-Compensatory products impacted are Marketing Mail Flats, Carrier Route Flats, and Package Services Media/Library Mail.
Comments may be submitted to the PRC by November 6th. The PRC is required to review the pricing proposal to determine compliance by November 27th.
Below lists the price change by mail class:
FIRST-CLASS

MARKETING MAIL
Drop Ship discounts for Letters and Flats remain the same.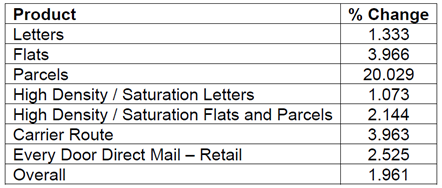 PERIODICALS

PACKAGE SERVICES

SPECIAL SERVICES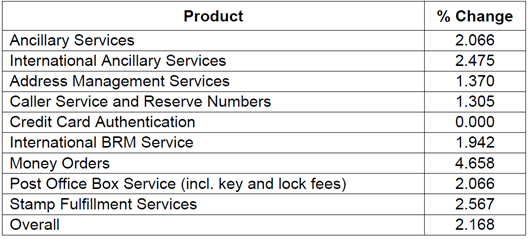 PROMOTIONS
The Postal Service adds no new promotions for the calendar year 2024 in this rate case. The Commission has already approved promotions for the calendar year 2024 in prior rate cases.
2024 Promotions are posted on PostalPro® https://postalpro.usps.com/promotions
For questions on the topics contained please contact the Postal Ops team at PostalOperations@enru.io